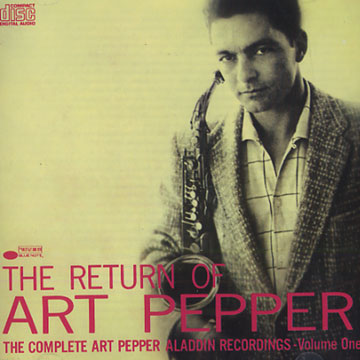 There are two groups here, recorded 1956 and 1957. The first group features Pepper straight out of prison and recording again. It's a somewhat unbalanced group and Pepper's style is intact but languishing. This makes instructive listening, considering how hot he could be on a good recording, I find it fascinating to see between the lines for a few moments while his fingering isn't as nimble and the ideas are developing more slowly. There's some good balladry ("You Go to My Head") and some flashy piano and trumpet from left coasters Russ Freeman and Jack Sheldon. The gems, for me, come in the pickup band on tracks 11-15 with Joe Morello and Red Norvo. This group was put together on the fly, presumably with little or no rehearsal, and the miracle is that it's a really tight date with a really positive chemistry. Morello was leader. "Tenor Blooz," "Yardbird Suite" and "You're Driving Me Crazy" show Pepper's style in full flight. Also, Norvo and Carl Perkins, and Pepper's interplay with Perkins, are not to be missed. If I had the choice to keep one disc out of this Aladdin set,
The Return of Art Pepper
might not be my first choice, but the Morello/Norvo recordings redeem it.