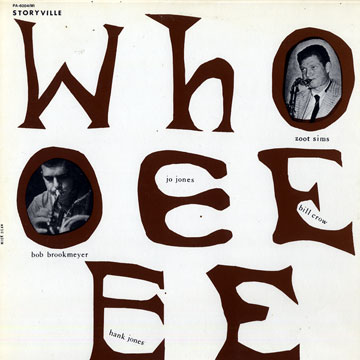 Zoot Sims always got it right. The albums were consistently excellent and already on the early ones he was confident and mature. His phrasing was economical and concise, driven by the melody and carried by a sweet, full tone. Did this guy ever play a clam? It's almost frustrating.
Whooeee!
is rare in the US but you can find it on
Four Classic Albums
by AVID Jazz (originally on Storyville), cheap for an import. If you listen closely, it's obviously a needle drop, especially the drums. But it's a goodie and after 20 years of bootleg collecting, a clean needle drop sounds like blue sky to me. The band is great: Bob Brookmeyer, Jo Jones, Hank Jones, and Bill Crow. Everyone is bent on melodic improvising, and they take their time, creating a spacious and friendly vibe. Hank Jones does these great, tinkling single-note solos, like on "Lullaby of the Leaves" where everyone lays out so Hank and Crow can trade licks to the gentle whoosh of Jones' hi-hat. Brookmeyer sounds great playing in unison with Sims, and the creamy vocal perfectly ensconced in the middle of "I Can't Get Started" is a rare treat, too. Four stars.